Season ticket waiting lists for popular sports teams can sometimes be years long. But with so much money involved, what is the honest cost to fans when they have the opportunity to buy a season ticket for their favorite team?
We've evaluated the average salaries, tax, and cost of living in five of Arizona's biggest cities – Phoenix, Tucson, Scottsdale, Chandler and Mesa – to disclose how many working hours it typically takes for fans of the NFL's Arizona Cardinals, NBA's Phoenix Suns, MLB's Arizona Diamondbacks and NHL's Arizona Coyotes to afford gameday tickets.
The popularity of these teams has been demonstrated in the huge interest in Arizona sports betting since the state's launch last year.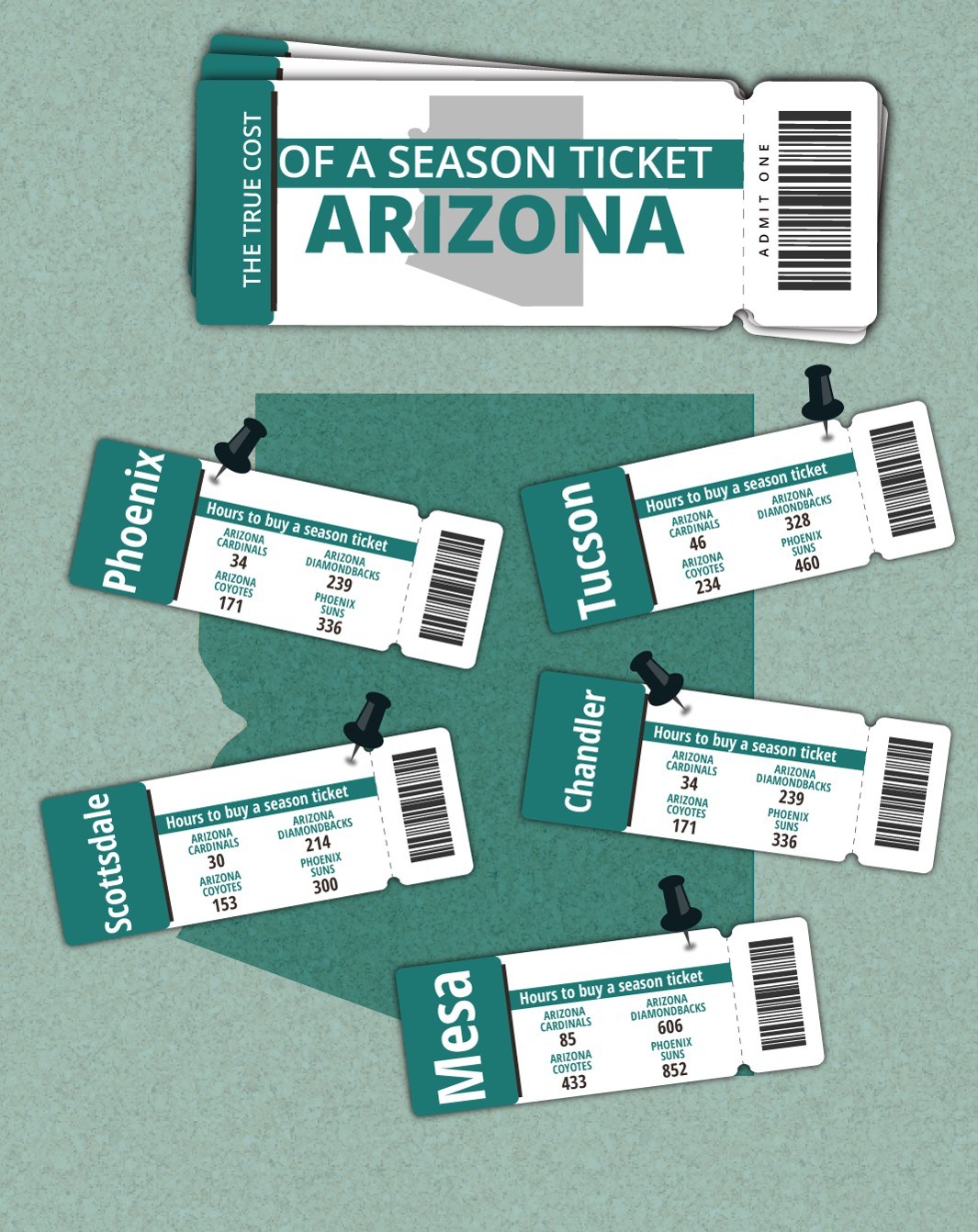 Phoenix
Phoenix-based fans enjoy the joint-second-most affordable season tickets in Arizona, thanks to the moderately high average salaries in the region.
For example, a season ticket at the Suns will cost the equivalent of 336 working hours. Likewise, an annual pass at the Diamondbacks will cost 239 hours, while a season ticket at the Coyotes and Cardinals will take 171 and 34 hours to earn, respectively. Of note, this is the first season for the Coyotes to be playing at Arizona State's arena in Tempe after the team's deal at the Desert Diamond Arena in Glendale expired.
Tucson
Supporters in Tucson are typically required to work the second-longest of any city in Arizona to afford a season ticket for their favorite team. For example, a Suns season pass will take fans here 460 hours to earn, while Diamondbacks supporters are required to work 328 hours to afford a ticket and Coyotes 234.
For now, Cardinals supporters need to work almost 50 hours.
Chandler
Chandler and Phoenix sports fan generally have the same experience, with a Suns season ticket costing the equivalent of 336 working hours, and a Diamondbacks ticket will take 239. Meanwhile, a Coyotes ticket will take 171 hours and a Cardinals pass takes 34.
Fans from all over the state can check out the best Arizona sports betting promo codes at BetArizona.com all year long.
Mesa
Mesa has a lower rate of disposable income than any other city in Arizona, meaning sports fans here are usually required to work the longest of any city to afford a season ticket for their favorite team.
For example, a Suns season pass will take supporters an astonishing 852 hours to earn – if you work 9-to-5 five days a week, that's the equivalent of almost half a year. Meanwhile, the typical Diamondbacks fan takes 606 hours, followed by those of the Coyotes (433) and Cardinals (85).
Scottsdale
Suns fans in Scottsdale only need to work an average of 300 hours to be able to afford a season ticket, a bit more than a third of the time required of fans in Mesa. That's because folks in Scottsdale have the highest average rate of disposable income among Arizona's biggest cities. Meanwhile, Diamondbacks supporters typically work 214 hours, more than Coyotes (153) and Cardinals (30) fans.
With average salaries and rate of disposable income varying dramatically across Arizona, it's interesting to see how much the true cost of a season ticket depends on where you live. Keep coming back to BetArizona.com for even more expert insight, as well as the latest odds at Arizona sportsbook apps and picks for your favorite teams.